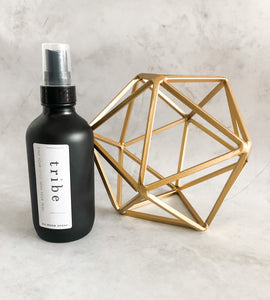 You asked, and it's here!  Bring our clean and crisp Tribe signature scent into your home with our room spray! 
Made with luxury essential oils in a pretty matte black glass bottle, you will love the subtle scent this brings within the walls of your home! 
This fragrance contains essential oils of bergamot from Italy and ylang ylang from France. It has notes of pear, mandarin, and plum, ylang ylang, apricot, wood, and patchouli.
4 oz glass spray bottle